When composer Mighty33 reached out and asked me to be on his new album, I jumped at the opportunity! Why? Because I knew the release would be designed to leverage Web3 technology, and I just had to be a part of the experiments.
After speaking with Mighty33, I could tell he was interested in finding ways to workflow through the blockchain. He seemingly wanted to use the album as an example of what's possible for an artist/label in 2020 when organizing music with Web3. Check out our recent interview to learn why he thinks the music industry will self-re-organize to a fair and transparent system.
Track #2 - Insane
For the "Others Die" album, Mighty33 and I collaborated on a rock-rap track entitled, Insane. The concept behind the song deals with artists leading the way through these times of uncertainty, questioning life's worth, reprogramming our minds and living our truth. In addition to writing and recording a verse for the track, I also created the song cover art — a depiction of me remaining optimistic during today's matrix of insanity.
To commemorate the song and album release, I've created The Insane Tape — a limited edition artwork minted as a DIGITAL collectible. DIGITAL collectibles are NFTs created using the on-chain smart contract capabilities of InfiNFT. This means each DIGITAL collectible has its metadata stored directly on the Ethereum blockchain with permanent file storage on the Arweave blockchain, and IPFS.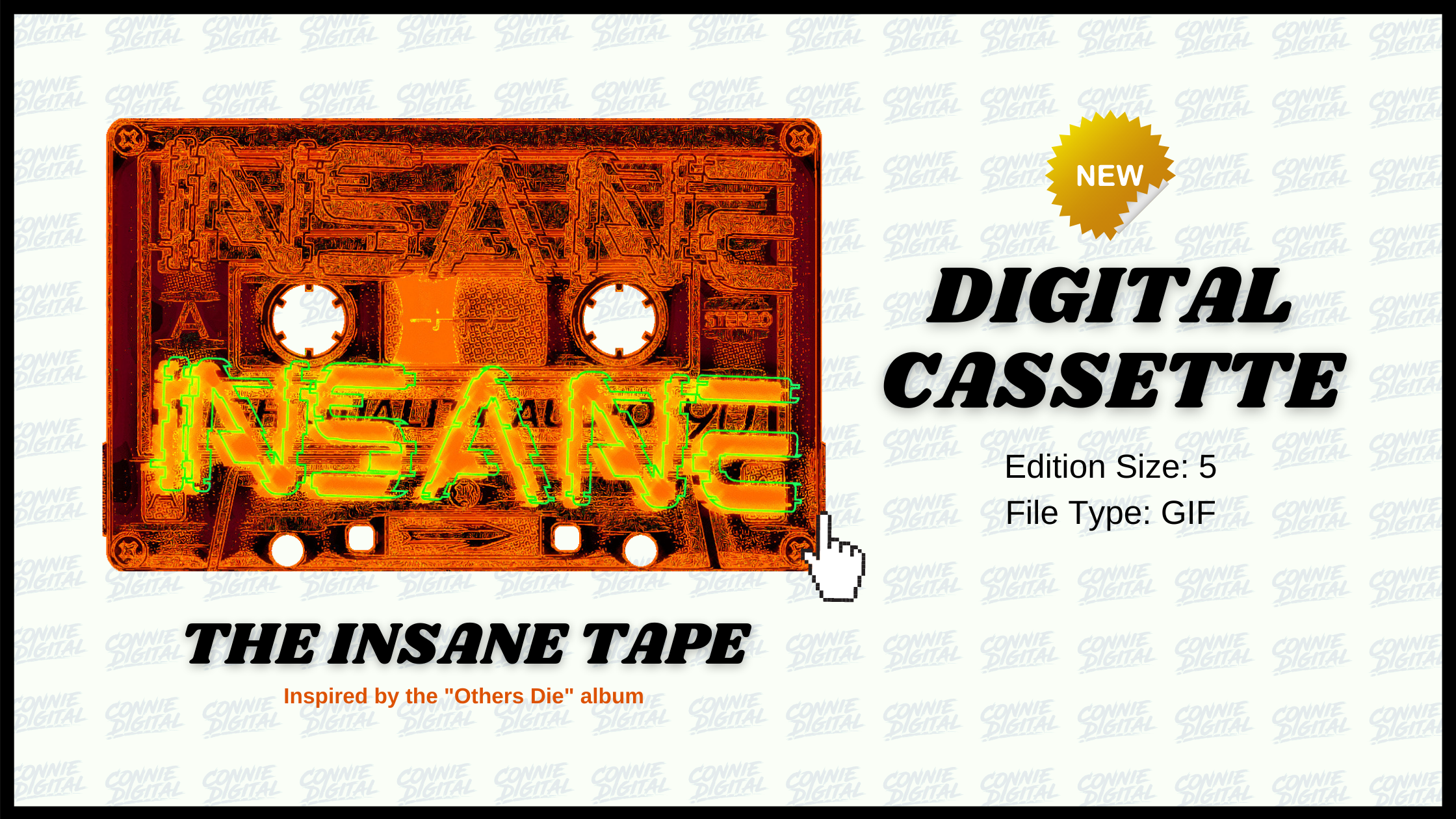 In short, these are among the most robust collectibles in the industry today. They are designed for the long-term and guarantee the collector indefinite, immutable content.

The Insane Drop Includes:
5 Digital Cassettes

More About The Album
"Others Die" is best described as rebellious.

"Made during quarantine times, the drama is all about light vs darkness. In a theatrical way, sensitive topics are unfolding one track after the other...magic, the Metaverse, MKUltra, the Deep State, the control grid, camgirls and more all get a mention...I'm using the power of music to wake people up about the great mind hack of humans over the last centuries," says Mighty33.

"Others Die" is available on Web3 streaming platforms Emanate and Audius and features guest appearances from myself, Vandal, Unknown Mizery, Raion.K, Kat Galie and Renegade. In the near future there will be events across the Metaverse to celebrate the release, including a listening party in Decentraland.